Less Doing, More Brewing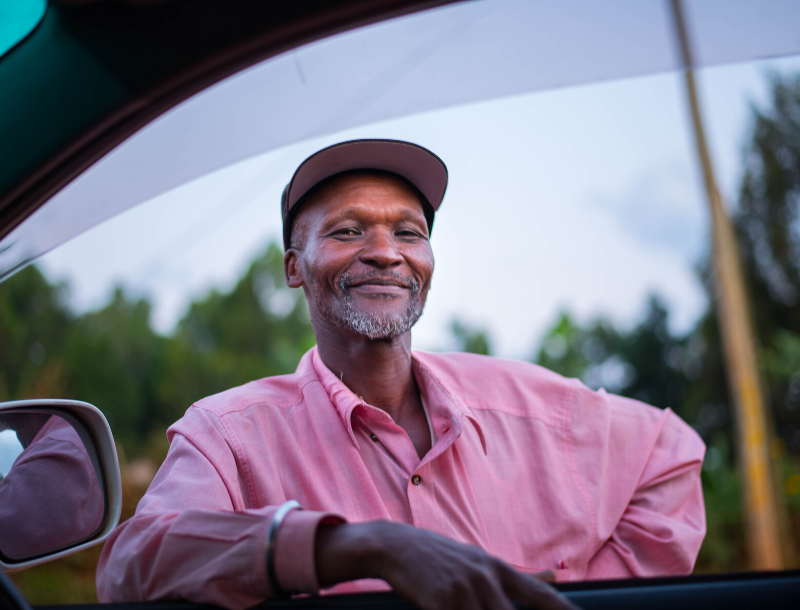 Onesmas, a truck driver by profession, and a frequent passenger driver for Ajiri Tea in Kenya. Onesmas is a big fan of classic country music. He always drives at least 10 miles per hour under the speed limit.
In our 20s (for the record, we're now in our 30s), Sara and I would zoom around Kenya in matatus (minibuses and the most common mode of transportation in Kenya). We might not get to our destination fast, but the matatus at least were moving fast. I remember once looking down at my feet only to realize that I could see the road running under us through the rusted-out floor. Sure, these minibuses are in a hurry, but the people (and goats and chickens and babies) on the matatus often seem in no particular hurry. This attitude is best summed up in the commonly used Swahili proverb: Haraka haraka haina baraka: "hurry hurry has no blessings."
Matatus in Kenya. They are often decorated or individually painted.
Photo credit: umaabroad.com
As a westerner, trying to start a business in Kenya can be exceedingly frustrating. Meetings on time, making plans for the future--it will happen, or it won't. Luckily, when we started Sara and I (22-years-old and 19-years-old at the time), had no plans, no jobs, and nothing but time. I would still categorize us as foreigners to this concept--never quite able to shed that underlying anxiety that we should be moving faster, doing more.

But in Kenya, to have time is to have deep relationships. We don't just hand out paper and pay the women for their handmade labels. Instead we hold several-hours-long meetings each month. We talk about children and hardships and whether it is going to ever stop raining. With more listening and less rushing, we have recognized deeper needs within the community and started micro-lending and micro-savings initiatives.

And we don't just pay school fees and drop off our 30 sponsored students at boarding school. Regina and Difna, our two Ajiri social workers, make sure to meet all the principals, all of the students' teachers and attend every student-teacher conference and every visiting day (all 30 students at different schools).
Ajiri group meetings never start on time and often last for hours. Tea is often served and women walk together as a group back to their nearby homes.
Now, stuck at home, there is a low humming anxiety to be productive--to bake bread, to start a garden, to learn a language, to read that book (all while taking care of children, working if we're lucky, and putting dinner on the table). Shouldn't we be doing something, doing more? 
In the words of Washira, another great driver who often helps out Ajiri, "Eh, relax." We'll get there when we get there. You'll get to it when you get to it. Be gentle on yourself and patient with others. Sit down, slow down. Pour yourself a cup of tea and call a friend.

With lots of brewing and a little less "doing" these days,

Kate, Sara, and the Ajiri TEAm
Washira, a frequent driver for Ajiri Tea, relaxing with a baby at an Ajiri women's group meeting.
Introducing our new Ajiri mugs! It only took us one year to put them up on our website. Hurry hurry has no blessings. $24.00 and handmade in the USA.
---
Leave a comment
Comments will be approved before showing up.