About Us
Learn about the people behind the product
OUR STORY
In 2008 Sara Holby (then 21 years old) went to western Kenya to volunteer for an NGO that distributed food and medicine to members of the community suffering from HIV/AIDS. Five months into her stay, the global financial recession caused international sponsors of the NGO to pull their donations, leaving many without food and medicine that seemingly overnight stopped coming. Shortly thereafter, Sara's sister, Kate (then 19 years old) visited Sara in Kenya.

Seeing the detrimental cycle of aid and the side effects of dependence and low self-esteem, they looked to create a sustainable project. With their mother, Ann Funkhouser, the three of them decided to start a company with the goal of creating employment. Tea is a major industry in western Kenya, so they set off to start a tea company. And since women tend to reinvest over 90% of their earnings back into their families, they looked to employ women to hand make the labels for the tea boxes and the twines that go inside.

They wanted, however, to create a full cycle of sustainable aid. Because education is a sustainable investment, 100% of the net profits go back to Kenya to pay school fees for orphans. Ajiri Tea Company is now sponsoring 29 orphans in school and is employing four different women's groups. In the spring of 2013, Ajiri Tea Company expanded to include Kenyan AA coffee, and maintains the mission of employment and education.
Ajiri is a 100% women-owned and women-operated tea and coffee company.
OUR TEAM IN KENYA
REGINA MORAA seems to be everywhere at once. She also seems to know everyone in Kisii, Kenya. She makes sure our students are doing well in school, that they have studied for their math exams, and that their shoes fit. She also helps manage the women's groups and regularly provides support and financial guidance. In addition to her work with Ajiri, Regina is a full-time home science teacher in high school. Regina holds a BA in Home Science from Maharshi Dayanand University Ajmer and a post-graduate degree in Education from Egerton University. She is also working toward her Masters in Education Leadership and Management at Kenya Methodist University. Regina is passionate about making sure young girls go to school. She says they are at a disadvantage in the community and that it is her job to be an advocate for them. When she isn't working, she loves traveling. Regina says, "When you travel, you know more. You meet different people, you talk, you enlighten your mind."
DIFNA ONYANCHA has seemingly endless energy and pours it into working with the students. She is quick to arrange swimming lessons, mentoring trips, and nearby hikes. Her creative and tenacious spirit drives new and engaging programming for the Ajiri scholars. She also works closely with the women who craft the labels, guiding them in micro-savings and financial management. Before joining Ajiri, Difna worked with women in the community helping to facilitate loans and entrepreneurship. Difna also has experience working with vulnerable students in the community running learning programs and conducting research to better help students gain access to education. Difna is passionate about working with women and young girls and believes real change can come with education and money.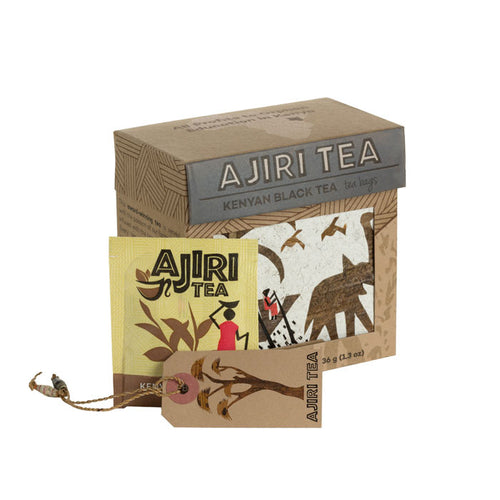 Kenyan Tea
All of our black tea blends are sourced from a cooperative of farmers in western Kenya. The tea is grown on small-scale shambas, or farms. On average, each shamba is only a quarter to two acres of land. All of the tea is handpicked--only the top two leaves and a bud--ensuring a the highest quality and smooth cup. The high altitude, abundant rainfall, and fertile volcanic soils make Kisii, Kenya, an ideal tea-growing region.

Kenyan Coffee
Our coffee is grown on predominantly small-scale farms. Kenyan coffee is known for its bright and fruity flavor with complimentary gentle notes of wine and black currant. The diverse and complex flavors reflect the diverse and vibrant regions in which it is grown. The main coffee growing area spans from the slopes of snow-capped Mt. Kenya to the south toward Nairobi. Ajiri is proud to offer a Kenyan AA Coffee, the highest grade of coffee. The AA designates the size and grade of the bean. In general, the bigger the bean, the more essential oils that enhance the flavor and aroma.
TRY OUR COFFEE
South Africa: Rooibos, or Red Bush Tea, has been grown by indigenous South Africans for centuries. Rooibos is grown almost exclusively in the Cederberg region near Cape Town. The green, needle-like Rooibos leaves are cut and oxidized before being laid to dry out in the African sun. This process changes the green leaf to the characteristic amber or red color.
Kenya: Our award-winning black tea is sourced from the highlands of western Kenya. The tea is grown on small-scale farms, on average about a quarter to two acres of land, and brought to a cooperative. Farmers only pick the top two leaves and a bud.
Egypt: Since the times of ancient Egypt, Chamomile has been organically grown near the fertile Nile Delta. The word "chamomile" comes from the ancient Greek, chamomaela, meaning "ground apple." The light and delicate floral aroma is similar to that of an apple blossom.
Labels are handmade by women in western Kenya. Each label is a unique work of art, made using dried bark from banana trees.
100% of profits support orphan education