The Great Adventure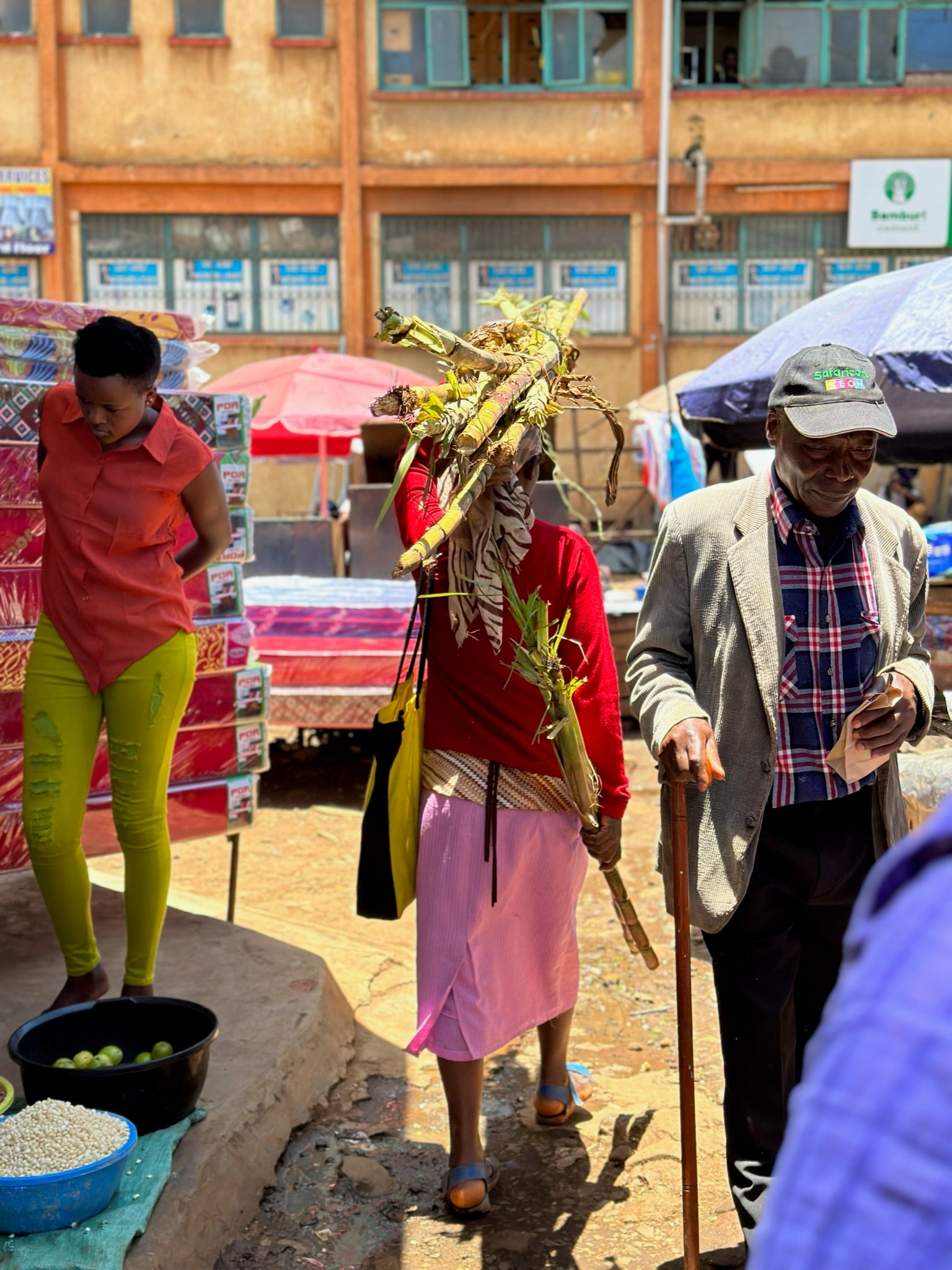 Walking through Kisii Town with freshly harvested sugar cane.

In these fading long days between taking care of young children while selling (and drinking) copious amounts of tea, Sara and I have been dreaming of adventures. Motorcycling across Africa, hiking in the Himalayas . . . Give us adventure unencumbered by daily responsibility except the sole personal responsibility to stay alive! It is in these daydreams of frozen glaciers and single-handed sailing adventures that we find the romanticism of perseverance a little too shallow or perhaps a little too male. It's nail-biting to watch the dizzying tenacity of Alex Honnold in "Free Solo" as he climbs El Capitan without ropes. He is living on the edge—he is taking chances which some view as reckless while others view as the purposeful pursuit of a life worth living. But in any scenario, there he is, unencumbered by responsibility for others except the responsibility to cling to the rock with exacting form and strength.
And yet we keep watching these adventure films because there is something so inspirational about it all—the uniqueness and grit of the human spirit.

Sabina, an Ajiri artisan who has been crafting the small beads and twine inside the boxes for the past 14 years.

So why isn't there anything romantic or exciting about the perseverance of women in Kisii, Kenya?  It is one thing for someone to go up and down a mountain outfitted in Patagonia clothing, and it is quite another to day in and day out fetch water from streams, harvest crops, and do back-breaking work all while taking care of children. This doesn't resemble the same adrenaline-fueled "taking chances" refrain, because there is no room for chance in their lives. Women simply have no room to fail. They just keep going and going, following the footsteps of their mothers in silent perseverance. Now this is what living on the edge looks like.

Inflation remains stubbornly high in Kenya. The price of sugar is up 49% compared with last year. For the first time, the women who craft our packaging had to borrow money for maize, a staple food, because the price of fertilizer was so expensive and they didn't plant their own. Riots protesting the cost of living are now a daily occurrence in Kisii, Kenya. And in all of this economic turmoil, women push through. All of these thoughts of adventure make us realize that adventure is a wealthy man's game. We value the physical feats of a climb up Everest while overlooking the very physical and emotional tenacity of millions of women to simply survive.

Thank you for all of your purchases of Ajiri Tea and Coffee. You help to lighten the load for these women. You help them live their lives further from the edge. Your purchases have helped them invest in land and livestock and wells.

Step by step, sip by sip of tea, we are helping a community climb out of poverty. We've been in business for 14 years and each year we employ 60 women and send 30 scholars to school.

Thank you for embarking on this great adventure with us,

Kate, Sara, Ann, Regina, and Difna

--
---
Leave a comment
Comments will be approved before showing up.